There Is Room For Fascism In Democracy


Rejaz M Sydeek
Sidheeq Kappan, a 43-year-old Malayali journalist and Delhi unit secretary of the Kerala Union of Working Journalists was arrested near Mathura toll plaza on October 5th, 2020, with student activists Atikur Rahman and Masood Ahmad, and the cab's driver, Mohammad Alam. He was en route to Hathras to report on the gang rape and murder of a Dalit girl (the Hathras case) by four upper-caste Thakur men in Hathras, Uttar Pradesh. Kappan was charged under various sections, including the UA(P)A and PMLA. He was released on bail on February 2nd, 2023, after spending 851 days in jail. During that period, Kappan lost his mother, contracted Covid twice, and endured physical and mental torture in jail.
On April 23, 2023, Rejaz M Sheeba Sydeek interviewed Sidheeq Kappan and his wife, Raihanath, at their home. During the 2.5-hour conversation, Sidheeq Kappan strongly shared his views on press freedom, state violence, the contemporary Indian political situation, and his experiences. 40-year-old Raihana shared her and her children's political observations and experiences following her husband's arrest.
"Expressing solidarity with jailed journalists Aasif Sultan, Gautam Navalakha, Fahad Shah, Sajad Gul, Rupesh Kumar Singh, Irfan Mehraj, and other political prisoners. Remembering SwapanDas gupta ( 1st political prisoner and journalist to be killed in custody under UA(P)A), Gauri Lankesh, Hem Chandra Pandey, Danish Siddiqui, Shashikant Warishe, and other journalists who were murdered."
This is the transcript of the interview. It has been lightly edited for syntax and clarity.
Rejaz: Do you believe that your arrest and others were a ploy to divert public attention away from the Hathras case? How did you feel when three of the culprits were acquitted, and the remaining one was convicted without rape and murder charges by judiciary?
Kappan: We were detained on October 5, 2020, and our arrest was recorded the following day. After realizing that the Hathras case would attract national and global attention, the case was handed over to the CBI. There were allegations that one of the culprits in Hathras case was related to a BJP leader. So to save the culprits and after realizing that the Hathras case would get public attention like the Nirbhaya case, we were arrested by the government to divert public attention away from the Hathras case. Rahul Gandhi, Priyanka Gandhi, Jayant Chaudhary, and Chandra Sekhar Azad of the Bhim Army were blocked on their way to Hathras. Even if they had been detained, the narrative of terrorism wouldn't work. So, getting three Muslims from UP along with a person like me from Kerala will fit that narrative. To appease their vote bank and public conscience, the state always needs a story of terrorism.
We saw Maya Kodnani get acquitted in the Gujarat Genocide. The justice implemented here is on an adjustment basis. The forgetfulness of the general public is one of the biggest benefits of fascism, and they see it as a big blessing. Fascists capitalize on the illiteracy and forgetfulness of the people. Their confidence stems from the fact that no matter what they do, no one will question them. Even criticizing the judiciary and state representatives is branded as anti-national. Those who point out their fingers to question are being handcuffed in this country. Even a judge like BH Loya is getting killed, and hatemongers are appointed ministers, members of parliament, MLAs, and judges in this country.
When people accused of a crime are from Dalit, Adivasi, Muslim, or Christian communities, the judiciary will speed up like a rabbit. Even the Supreme Court will be opened for a midnight hearing to sentence them to capital punishment. If the accused are from the upper caste, the judiciary will be slow and crawl like a tortoise. The convicted person in Hathras case was only charged with culpable homicide, not amounting to murder and rape, and this is an injustice. They are trying to portray it as if the girl committed suicide.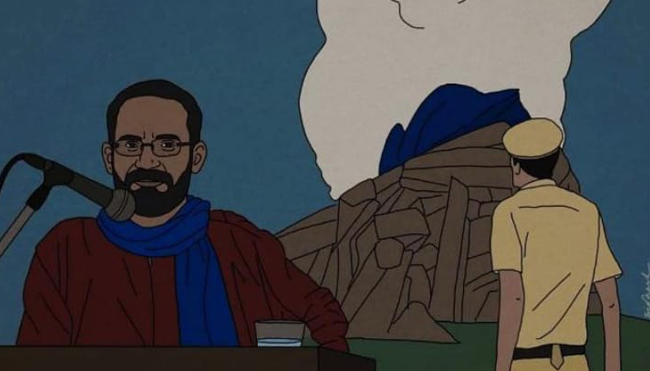 The judiciary plays a vital role in democracy. But when the judiciary is functioning as per the interests of the state, there won't be a democracy, only a dictatorship. In the 2008 Malegaon case, we know the NIA asked the special prosecutor to be lenient on the perpetrators of the blast. Just like that, the prosecution might have received instructions from somewhere to be lenient on the murderers and rapists of the girl.
Rejaz: You have said that it was not because of your religious identity that you were arrested but because of your profession. But can you deny the angle of Islamophobia in your arrest?
Kappan: Islamophobia is an undeniable global reality. It was an important reason, but I was not arrested solely because I am a Muslim. I am a journalist from Kerala. I have been saying I faced regional-based discrimination more than religious discrimination from the beginning. To substantiate this, I can give an example. There were four of us in the car in which we were traveling to Hathras. All four of us are Muslims, but three of them are from Uttar Pradesh. The police came and asked first, Who is journalist Sidheeq Kappan from Kerala? The police could have even started interrogating those three. But the interrogation started only through me, though allegations of affiliations with PFI and Campus Front were with the student activists. But it was me whom the interrogators saw as the perfect bait. Not "Muslim Sidheeq Kappan" alone; Kerala is a problem for them. That's why I am saying that our issue is not only one of religion or PFI but also of being a Malayali. You might remember Amit Shah's speech in Karnataka warning them about Kerala to the people of Karnataka.
I believe that Islamophobia is used by several so-called secular parties for their vote bank. Be it the UDF or the LDF, their ministers have slammed the protestors in Kerala behind the agitations as Muslim terrorists. Protestors against GAIL and the National Highway were called Muslim terrorists by LDF leaders. Even the leader of a Muslim party that is part of the UDF has called the protestors behind Expressway Muslim terrorists. During the NRC-CAA protests, Narendra Modi also targeted Muslims. He said, "Those indulging in arson can be identified by their dress." So I believe the UDF, LDF, and NDA use Islamophobia to protect their interests.
Rejaz: After being released from jail, you told the media that happiness would only be there when others imprisoned in the same case get released. Do you feel that there is only less outrage for the rest of the prisoners in the same case by people who claim to be against UA(P)A? Is there selective activism regarding it?
Kappan: Yes, there is selective activism. Regarding certain issues, people tend to only engage within their safe zone. No people are speaking for prisoners like Fathima Gulfisha (an anti-NRC-CAA activist) and Zakariya (an under-trial prisoner accused in the Bangalore blast). People are being selective in their protest against UA(P)A. It's easy to speak again for the prisoners who already have others to speak up for them, and this is safe zone activism. Political parties are only ready to speak for society's celebrated and well-known people.
I consider UA(P)A an illegal law that only aims to jail accused people illegally and indefinitely. It is the new avatar of colonial seditious law, which was used and later scrapped by Britain and introduced in their colony, India. Evidence is not needed to jail you under UA(P)A, and this was seen in my case. You have come from Ernakulam to Vengara to interview me. But if a police officer feels that you have come to incite a riot, you can be charged under the 16, 17, and 18 sections of UA(P)A. People who make strong statements against UA(P)A are framed as terrorists and jailed. It should be the duty of the people to speak for the citizens charged under UA(P)A. For the last 10–11 years, I have been reporting against UA(P)A, and now it has been used against me. So if we are getting selective tomorrow, no one will speak for us.
Rejaz: How do you see the response and stand taken by mainstream Malayalam media for you?
Kappan: I think every media except Hindi took a positive position within their limitations. Compared with the position taken by Malayalam media on cases accused of terrorism and foreign links, which occurred much before my case, the position was far better, and they firmly stood by me.
Rejaz: What might be the reason why many media outlets call you the "so-called journalist" despite you being the KUWJ secretary of the Delhi Unit? Is there any similarity between this and the silence on the arrest of Kashmiri journalists by the national and Kerala Media?
Kappan: I think this takes place only when Muslim journalists are detained. Kashmir is a war zone, and Kashmiri journalists and photojournalists are treated as terrorists. They are not taken into trust by society and certain groups. This is exactly what I also experienced. My visit to Cape Town, South Africa, on a scholarship for Wikipedia's 2018 Wikimania conference, became offensive to the media, and they exaggerated it. Hindi media called me the "so-called journalist" and "controversial journalist." Still, on the other side, the same media treats Arnab Goswami as a journalist, who was jailed for abetment of suicide. Journalists arrested for reporting on issues like Kashmir and farmers' protests are questioned about their profession, even within the media fraternity. But communal YouTube vloggers, hate mongers and the people with criminal cases are respected and identified as journalists.
When Rana Ayub came to Kerala for a program organised by a prominent media body, she was asked by a prominent media personality not to speak about Sidheeq Kappan in the program. But international media, including the BBC, Reuters, The Guardian, CNN, and Washington Post, stood with me. I don't insist that hatemongers and media that do PR work for the government should accept me as a journalist. My journalism is not PR work.
Rejaz: Initially, Assistant Professor of Subhash Chandra Bose Medical College, Dr. Rajkumari, who visited the victim's family, was accused of being a Maoist. Even in your case, they tried to link you with the Bhima Koregaon case and frame you as a Maoist. How do you see using the Maoist tag as a weapon to incarcerate human rights activists and journalists like Rupesh Kumar Singh?
Kappan: This is prevalent in every era, especially in the contemporary world, where journalists are framed as terrorists. Framing me as a Maoist was part of that. There is always an attempt to frame those who speak for Adivasis, Dalits, and Muslims and against their oppressors of the oppressed as Maoists. Take the case of Fr. Stan Swamy. He was framed as a Maoist and identified as a Christian priest simultaneously. I was framed as a hybrid terrorist after being tagged as an ISIS sympathizer, PFI member, Muslim terrorist, and Maoist sympathiser at the same time, despite the religious belief contradictions between Maoists and others.So those who stand with the people are labeled as terrorists, communists, and religious fundamentalists by the state, and the state can silence them to a certain extent. If there is an accusation against you, you can always be detained indefinitely, and any case can be charged against you. Take the case of Adv. Thushar Nirmal and Jaison Cooper of Kerala. They were charged under UA(P)A in an alleged Maoist case, but still, today, the chargesheet is not filed. You will lose support from the public if you get labeled, but I believe it failed in my case. I believe that people have realized that if you are speaking on issues of Adivasi, Dalit, Muslim, or women, either you will be made a Maoist or aterrorist by the state.
Rejaz: Police asked why you studied at Jamia Millia Islamia University, about the Democratic Students Union (DSU), which was also active in anti-NRC CAA movements, and whether you knew the people behind the 2020 Delhi violence. Do you think there was an attempt to frame you in the North East Delhi violence case?
Kappan: There was an attempt to frame me in the Bhima Koregaon and North East Delhi 2020 violence cases. During the interrogation, the investigating officer told me I had a link to the Bhima Koregaon case. I replied that I had only interviewed Bhima Koregaon accused, Dr.Hany Babu's wife, Dr.Jenny Rowena. Then he asked, "Who is behind the Delhi 2020 violence"? Just after the 2020 anti-Muslim pogrom, pro-Sangh Parivar journalists shared fake news on website that I received money from PFI and distributed it to protestors with an intention to instigate riots. I was the Delhi unit secretary of KUWJ then, and I believe this was done because of the professional egos of some journalists. While working with Azhimukham, I filed a legal notice against the pro-Sangh Parivar website through a renowned lawyer, Nisha Bhambhani. The police used the same content shared by the website against me on the charge sheet. When MediaOne and Asianet News were banned for 48 hours over their Delhi violence coverage, I presided over the protest meeting in solidarity with the news channels as the secretary of KUWJ Delhi. At that time, the Delhi Police had collected my name and details from the protest site. Maybe I might have been under surveillance from that time onwards.
Rejaz: During the anti-NRC-CAA protest, a Muslim cleric in Kerala ordered Muslim women not to clench their fists and participate in protests, but the women hit the streets against fascism. Your wife participated in various protest meetings for you in public and also spoke for other political prisoners; how do you see her being on the front line against fascism, braving social stigmas?
Kappan: It is something that gives hope. Usually, when a person is arrested, their family is shattered and destroyed. But in my case, it was different. I believe that the activists and journalists stood behind me because my wife was leading from the front. This is a huge change, and it was not only my wife who was at the forefront but also my children. Usually, the public scare the families of those accused of terrorism. Keralites, especially Muslim women, have understood the reality of the "terrorism version of the state." The suppression by the state has led to the awakening and uprising of the common people. In that sense, this gives hope.
Rejaz: When a person, especially a Muslim, is charged under UA(P)A, lawyers who offer legal help are perceived as friends of terrorists. When a Muslim from Kerala needs bail surety in UA(P)A case registered in Uttar Pradesh, Uttar Pradesh people will think twice about the consequences. Humans like Lucknow Vice Chancellor Roop Rekha Verma helped you secure bail. How do you see this as unity against fascism?
Kappan: It is only with the support of a forty percent vote bank that fascists are ruling India. The remaining sixty percent of people are democratic, secular, and anti-communal. Roop Rekha Verma and a prominent journalist from Uttar Pradesh, Kumar, who stood for my bail, are link of this democratic and secular chain. No matter how much the judiciary, executive, and legislature are communalised, people like them are a threat to fascism. During the time of Hitler's regime, Anne Frank was more popular. Anne Frank's The Diary of a Young Girl is more widely read than Hitler's Mein Kampf. The might, power, and dictatorship of fascism are not enough for it to last in history, but people like Anne Frank, Roop Rekha Verma, and Kumar will be remembered during the troubled times of fascism.
Rejaz: The war cries of several regiments of the Indian Army are not secular, and even the state police are politicalized. There are always reports of a nexus between the state police and the BJP, wherever they are in power. Is that indicated by you being taken away by police in a car with a BJP flag?
Kappan: This is not a big issue for them in Uttar Pradesh. Despite my testimony about it, this was not even discussed because it happened in UP. We are forced to ask ourselves whether UP is not part of India and the Indian constitution does not apply to UP. We cannot identify which country this is and which state this is. When police officers wearing civil dress transport me to the office of Mathura Sub divisional maggistrate in a private vehicle with a BJP flag, it is not surprising to anyone, which worries us. No one is bothered to investigate it. It is terrifying to see a state turning to that situation under fascist governance.
Rejaz: "Do you eat beef"? This was one of the questions for you during the interrogation, followed by slapping and beating after every question. Manipur journalist Kishorechandra Wangkhem was arrested under the National Security Act for posting on Facebook that cow dung and cow urine don't cure COVID-19. Do you think cow dung, urine, and meat are more protected than journalists in India?
Kappan: Beyond journalists, a cow is given more importance in India than common people after the NDA-led and RSS-guided central government came to power in 2014. Since the old days, the Sangh Parivar and upper caste people have given cows the status of "holy cows." Congress also did this, and "holy cow" should not be blamed only on the Sangh Parivar. We know that once there was even separate dining for upper-caste Congress party members during their conferences. The need to maintain caste stratification is for numerically minor upper-caste people. The monopoly on this practice was conveniently taken over by the BJP, and they are using the cow as a tool for power politics, not because the cow is a sacred thing.
Rejaz: There is freedom of expression, but there will be no freedom after expressing it in India for a common man with dissent against the state. Have you felt this before the arrest of Sidheeq Kappan?
Raihanath: No. Though I had heard about this in the news, I only knew the gravity of it after the arrest of Kappan.
Rejaz: Lenin has said, "If you do not interfere in politics, politics will eventually interfere in your life." Even your children, 19-year-old Muhammad Muzammil, 15-year-old Zidhan, and especially 10-year-old Mehnaz, started talking about the reality of freedom in India. How do you see it?
Raihanath: Our children, who only had the innocence of their age, were taught politics. Kappans's arrest politicised my children and me. Our children didn't know what UA(P)A is, but they knew it after knowing the consequences. They started asking about things happening in this country after their father was detained. They asked me why the truth was not valued. The daughter asked, "Don't the court know the truth? When my daughter's teacher asked me to prepare a speech for her on Independence Day, I asked, "What should Sidheeq Kappan's daughter speak on "Independence Day"? Mehnaz, who was 9 years old then, smiled scornfully when we mentioned independence. She said that she wouldn't speak without mentioning her father. My daughter even told me that she was ready to get jailed and die along with me. We realized from experience that when injustices happen to us, the situation changes and makes us speak and act.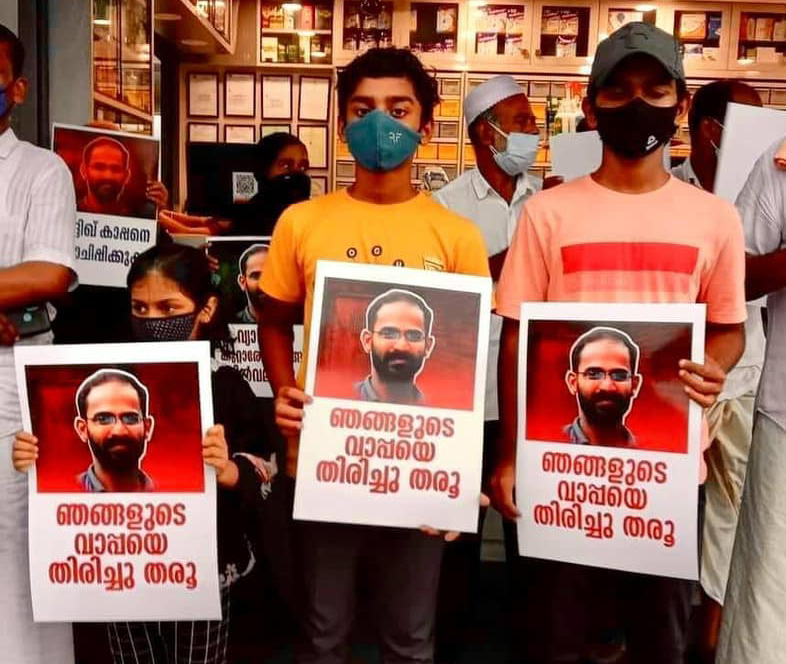 Rejaz: The Kerala government always criticises human rights violations in the state governed by the Sangh Parivar, especially Gujarat and Uttar Pradesh. Still, what do you think are the reasons for the Kerala government's late response to Sidheeq Kappan, and what prompted you to comment on the Facebook post of Chief Minister Pinarayi Vijayan?
Raihanath: I had sent several letters to the Chief Minister but only got replies from the DGP and the private secretary of the CM. When I heard from the authorities that CM had limitations, I used to wonder what limitations he had. I used to think, "If a journalist is not getting justice, will a common person get justice?" CM could have sent a letter to the authorities, but he didn't do anything at all. I happened to see the Facebook post of the CM condemning the attack on Christian nuns in a train by the Sangh Parivar in Uttar Pradesh and mention of his letter to Amit Shah seeking justice. I was deeply saddened to see his immediate response. It was not because he spoke for the victims but because of his silence only on Sidheeq Kappan. I started thinking, Is CM silent on Sidheeq Kappan because he thinks Kappan is guilty? My mental condition at that moment made me comment.
Rejaz: The RSS threatened to disrupt the program organised for Sidheeq Kappan. MPs and MLAs were invited, but Kerala Police asked the organisers to cancel the program. The BJP also complained to the NIA regarding the program. Do you think even democratic events are under threat from the RSS?
Raihanath: Yes, Democratic events are under threat. During the program organised on the day Kappan completed his first year in jail, there were no issues or objections. As it was for a jailed journalist, MPs, MLAs, and clerics participated in the program. The program, disrupted by the Sangh Parivar, was scheduled when Kappan got bail in the UA(P)A case. It was not a protest but a thanksgiving program that would have been attended by family members, MLAs, and MPs. But NP Chekkutty sir was asked to cancel the program by Kerala Police, citing the complaints made by theSangh Parivar. We were tensed and thought, "What is the issue with conducting this program in Kerala? We understood that Sangh Parivar was doing this to affect the bail given to Kappan. We could have conducted the program, but we decided to cancel it only because we feared it would affect his bail.
Rejaz: Sangh Parivar loves to defame the Malappuram district and spreads the idea that Hindus cannot coexist with Muslims in the district. How was the reaction to Sidheeq Kappan's case from the Hindu community?
Raihanath: There are no such communal issues in Malappuram district. People usually share their grief more openly with friends than with relatives. Most of my friends are Hindus, and they gave me the strength to fight for Kappan, also fondly called Bava by them. They always consoled and empowered me. They have even conducted religious rituals in the temple for Kappan's release. Maybe it was Hindus who stood more in number with us. There was also a Hindu monk from Mathura, Uttar Pradesh, who used to visit Sidheeq Kappan in jail and give him books and food items. The lower-level police officers from UP who escorted Sidheeq Kappan to Kerala during parole even expressed that they would like to visit Kerala during vacations. The Sangh Parivar is deceiving people, and the reality of communal harmony between Muslims and Hindus in Malappuram busts their propaganda.
Rejaz: Under the UA(P)A, there are several female political prisoners, including Prof. Shoma Sen, Jyoti Jagtap, and Fathima Gulfisha. However, there are fewer voices raised for them compared to male political prisoners. What do you think are the reasons behind this? What do you have to say to the families whose loved ones are languishing in jail under draconian laws?
Raihanath: Compared to male prisoners, it is female prisoners who suffer torture more in prisons. I didn't know that there were women under-trial prisoners. It was only recently that I came to know that there are a lot of unknown women political prisoners like Fathima Gulfisha in jail. I don't understand why people are not talking about the female prisoners. I am the wife of an innocent person who was incarcerated for 2.5 years, and I know the pain I endured during that period. There are a lot of people who have been in jail for more than that period as under-trial prisoners. The pain experienced by spouses, children, and parents of the prisoners is difficult to explain. If the truth is with us and if we are sure that the government is lying to jail them, everyone, including women, should be ready to fight.
Rejaz: Is "Right to Life" expensive? Being bailed out is like having your life saved. Can poor people afford the expenses of the Supreme Court?
Kappan: I could not have fought for my case in the Supreme Court. I was bailed out only because lawyers like Kapil Sibal and IB Singh appeared for me in the Supreme Court free of charge. Otherwise, I would not have gotten bail even if I sold my ancestral house and entire property. Though their service was free of cost, there are other expenses in this legal fight that I cannot bear. A common man cannot afford these expenses. I have to mark my signature at Vengara Police Station every Monday, which restricts me from doing my job. How can I do my job? How can I work from a place other than Vengara? Even after getting bail, iam suffering. The procedures itself is a punishment, and I suffer from it. After getting bail, I had to stay in Delhi for 1.5 months as part of the bail condition. The accommodation was on a rental basis. So getting into a legal tangle is a hugefinancial burden and expenditure. The court needs to consider how I will do my job and manage expenses. Even people were scared to send money to my wife's bank account for legal expenses despite getting bail. Even the prosecutor of the Enforcement Directorate told us that we have to be careful while sending money, and even the money sent to the lawyers is under surveillance. We are paupers because I am not able to work. It's a huge burden for common people because their personal and legal expenses should be met at the same time. The government gets funds from public taxes, and the Solicitor General, Advocate General, and government prosecutors get paid from the government treasury. But what will common people do? They have to pay the expenses out of their earnings.
Rejaz: When journalists are constantly attacked with draconian laws like UA(P)A, PSA, NSA, and sedition for criticizing the government, we feel that they form the real opposition to the government within the system. Do you believe journalism is also political activism and mainstream media are becoming slaves by doing PR work for the government?
Kappan: Journalism is not PR work. It isalso a political and social activism. I believe that the media is the most important pillar of democracy and not the fourth pillar, but the first. Fascism and dictatorship regimes always came to power in the world through democracy. We can see how fascism comes into power using the opportunities put forward by democracy. So in such a situation, to protect democracy, the media should be the first pillar. But now journalists are becoming PR workers. Like the judiciary and executive were bought with a price, journalists are also bought with money. YouTube channels started spreading Goebbels-like lies to earn money by appeasing the government and from Google advertisements. True journalism is the voice of the common people and should always be in a position of opposition. Otherwise, it's PR work.
Rejaz: Innocents are jailed with fabricated evidence. Are the police real competitors to Vivek Agnihotri? What action should be taken against the investigation agencies that fabricate evidence?
Kappan: Take my case. The police say they seized an English notice from the car I was traveling in. I only learned about the content when the police informed the Supreme Court that the notice was a Black Lives Matter toolkit. Then in my chargesheet, it is mentioned that I distributed money and pamphlets in Hathras to the locals and delivered speeches. To strengthen this fake story, the police produced two fake witnesses. Strong action should be taken against this, and the question is, who will take action against them? Courts are just gasbags, and they don't do anything. Even the chargesheet against me is a chargesheet against the Uttar Pradesh Police and this state. In my chargesheet, it is mentioned that Prof. SAR Geelani was hanged to death by the government. We know that SAR Geelani died in the gym after suffering from cardiac arrest. Is this not enough to jail the officer who prepared this charge sheet? What kind of investigation is this? Even a Google search can answer how SAR Geelani died. Legal action should be taken against the officers who detained me using that charge sheet. Then they told me that a Georgian visa was found on my phone and that I planned to join ISIS after crossing to Syria from Georgia. They are cooking stories, and courts should be vigilant about this. Otherwise, the judiciary would be hammering the last nail in the coffin of democracy. The judiciary has a huge role in democracy. They should prosecute those fabricating evidence and write charge sheets that compete even with horror stories.
Rejaz: The Sangh Parivar spread false information about Raihana's intentions to run for the Muslim League. This was their attempt to link IUML with this case, just like they tried to do with the CPI (M), Congress, and even Maoist organizations. While the BJP is grouping opposition parties singly to attack, do you think there is unity among opposition parties against fascism?
Kappan: There is always a view that the Sangh Parivar and RSS are mentalities, and I believe it. Many political parties have tried their best to fuel casteism and hatred against other religions for selfish reasons. I think some political parties are complete failures because they don't work together and serve as the opposition party to avoid taking the brunt of the state's wrath. Aravind Kejriwal only became aware and proposed unity against the BJP ahead of the elections after he was summoned by the CBI for questioning. I don't believe that Congress will become a big shot. Still, issues-based unity against fascism among opposition parties is needed. But I believe that they are failures in creating such unity.
Rejaz: In an interview with the media, you mentioned that Uttar Pradesh ATS officers were angry and asked other officers why you were detained after figuring out it was a fabricated case. Do you believe or feel that lower-ranking officers are being pressured by higher-level officers and bureaucrats?
Kappan: I can strongly say that I was arrested after being pressured and advised from the top. I was told by the local police, who initially detained me, that they were pressurised by higher-ranking officers. Though they promised to free us immediately, they detained us for 24 hours. Initially, I was charged with sections 151, 166, and 107 of the CrPC. I was arrested under UA(P)A after being instructed and pressurised by the DGP and Chief Minister of Uttar Pradesh. Even the Special Task Force investigation officer told me in the courtroom that his hands were tied, and there was nothing he could do. So the chargesheet prepared by such investigating officers will hang SAR Geelani to death.
Rejaz: Hindustan Samachar has taken over the monopoly of providing news to Aakashavani and Doordarshan. When state media is hijacked, and misinformation by Godi media fuels hate crimes, what should common people rely on?
Kappan: The situation is like journalism has turned into reporting only what the government feeds, and the rest gets slammed as false news. We can check whether democracy is present in a country by checking whether press freedom exists. Now it is an undeclared emergency period, whereas earlier, it was a declared emergency period. Be it undeclared or declared, the mouths of the media will first be gagged, and their pen and cameras will be seized. Hindi media are controlled by the Home ministry, and they can't report anything against the government. They publish government press releases to appease the government instead of reporting the real news. So the audience, viewers, and readers should be vigilant. This was the situation in Nazi Germany when Joseph Goebbels was the information minister. The media published whatever lies were given by the Nazi government, and it destroyed democracy. There is always room for fascism in democracy, and now democracy has become the mask of fascism. So in contemporary India, it is difficult to identify genuine news.
Rejaz: What were the prisoners' conditions in the jail where you were lodged? Did you observe any human rights violations in jail, especially during quarantine?
Kappan: 50 people were kept in a single classroom, and no quarantine rules were followed. There are a lot of innocent, poor inmates lodged in the jail. Some people committed robbery only because of hunger, and others were forced to flee from Rohingya. There are psychiatric patients in jail accused of petty crimes like mobile theft. Instead of admitting them to the hospital, they are lodged in jail. Several Dalits, Adivasis, and Muslims are in Uttar Pradesh jails, and they don't even know who a lawyer is. There are prisoners from Bangladesh, Myanmar, and Russia whose chances of getting released are less because getting people as bail sureties is less likely. These people are not provided any legal help, and this has to be taken seriously since it is a human rights violation. People with humanity and human rights organizations should address this. There was no proper toilet facility, and I bathed covertly after 21 days. I had to use the water provided for cleaning after urinating for bathing, and bathing was illegal there. We were not provided tea and were only served food once a day. The food will be a few chapattis, and it will be served whenever they wish. When I was admitted to the hospital after contracting COVID, I was handcuffed using a chain to the bed and could not move. I even had to urinate in a plastic bottle. I am diabetic and got blacked out because of human rights violations.
Rejaz: Throughout the country, non-Hindi speakers are affected by the Hindi imposition. How badly were you affected by it in jail, especially during the phone calls to home?
Kappan: From the beginning itself, we were only allowed to speak in Hindi. English was not allowed, and a strict ban on Malayalam was there. Even permission to read Malayalam books was denied. My first communication with my family to inform them about my arrest was only after 45 days in jail. I had to beg the jail superintendent and deputy jailor to grant me permission to speak in Malayalam. Just see the inhumane attitude that restricted me from talking in Malayalam with my 80-year-old, ill mother. There is a culture in the North Indian belt that sees non-Hindi languages as primitive and Hindi as the classic language. A person was always assigned to eavesdrop on my conversation to check whether I was speaking in any non-Hindi language. Prisoners with Bangla as their mother tongue were allowed to speak, but Malayalees are not allowed. This is what I said from the beginning that, there is hate against people from Kerala among the jail authorities and state police. Common people of UP respect Kerala and wish to visit Kerala as wages are better there. But jail authorities spread hatred against Kerala and Malayalam. I am not against Hindi or any other language. I have written my articles in Hindi, Malayalam, Tamil, and English. But, I am against the impositions and restrictions, be the language or food.
Rejaz: You were stamped on the hand of being freed. Do you think the stamp of being labeled a terrorist or anti-national will vanish even after being acquitted?
Kappan: I am not scared of the words "terrorist and anti-national," and I see them proudly. Because these words are used to silence those who question the system and establishment. If murdering Gandhi is patriotism, his murderer and you both cannot be patriots. Only one can be a patriot, right? If murdering the father of the nation is patriotism, then we are anti-nationals. So I am not scared of these tags. They and I cannot be patriots and anti-nationals together.
Rejaz: This interview will be published on May 3, World Press Freedom Day. What do you have to say to budding journalists, and what should be done to end impunity for crimes against journalists?
Kappan: Try to be the voice of the people, and for that, you may not get accepted, and you may have to cross difficult terrain. The other will be journalism without dignity, and you will have to appease the state and central governments. Journalists should always be in opposition instead of singing ballads for the government. We should look for the emotions and sentiments of the common people. We should not inject views/opinions in the name of news. Both are separate, and views have no place in the news. We will have our political ideas, but when it comes to the issues of the common people, we have to stand with them, and only this kind of journalism will last. For the other kind of journalism, even the ruling party will not value you because they know who you are when they are in opposition.
Journalists should be at the forefront of the fight against the crimes committed against journalists. I am not a CPI(M) supporter, but when the Trinamool Congress in Bengal took action against the CPI(M) Bengal newspaper, Ganashakti, I protested against it in Delhi. I had not worked with Asianet News and Media One News. Still, as a journalist body member, I protested for them when they were banned by central government. For that protest, I coordinated with leaders of Congress, CPI, and CPI(M). When Gauri Lankesh was killed, I protested.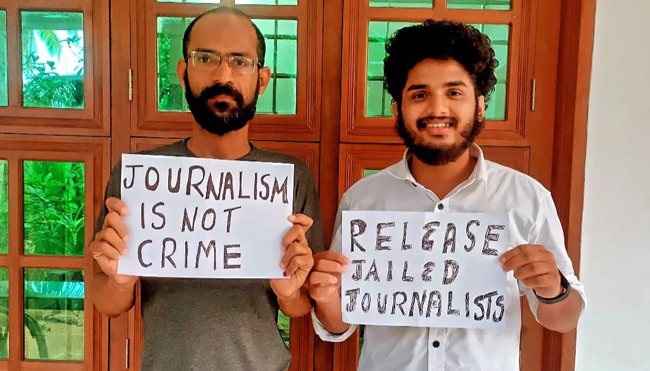 Journalists should unite on the issue of journalists and protest unitedly, irrespective of their views, religion, or caste. If not, you will also become isolated. We should also stand together when media having different political views with us get attacked by the state. We must stand with the Kashmiri journalists. They are jailed under UA(P)A and other draconian laws after being accused of terrorism. The public believes the state's version, giving the benefit of the doubt to the state instead of journalists. This is also what happened in my case. Some people in Kerala were late by one year in supporting me. Since I was a contributor to Wikipedia, I got immense support from foreign media bodies. It was only then that others started to stand with me. That is not what is needed because we should be able to be at the forefront for journalists. Instead of becoming the last link in the chain, we should join first, and then only we can proudly say that we stood for press freedom.
_ Rejaz M Sydeek
(Member of the Democratic Students Association-DSA Kerala
and an MSW postgraduate alumni of the Central University of Kerala)
Interview Courtesy_ AroraOnline
Cover Photo Courtesy_ Rahul Nair
Other Photos_ Various Media