Remember the 2016 JNU sedition case?


Rejaz M Sheeba Sydeek
Comrades Umar Khalid and Anirban Bhattacharya, former leaders of the Democratic Students Union (DSU) at JNU and Ph.D. students, were jailed for weeks after being charged with sedition for organising protest within the university against the institutional murder of Afzal Guru, a Kashmiri Muslim. The protest took place on February 9, 2016, which marked the third anniversary of Afzal Guru's martyrdom. JNUSU president, and former AISF leader, Kanhaiya Kumar who got first arrested in the case was jailed for weeks.
Supreme Court in its verdict confirming capital punishment for Afzal Guru in the 2001 Parliament attack case clearly stated, "To satisfy the collective conscience the lone accused (Afzal Guru) should be hanged".
Why didn't the so called collective conscience mentioned by Supreme court get affected when Union Minister of Rural Development and Panchayati Raj Department and BJP leader, Giriraj Singh said, "If Godse was the killer of Gandhi, he was also a good son of India"? This tells us that the above collective conscience is not of democratic and secular India but of Brahmanic Hindutva India.
Why there were no news debates or trials by mainstream media and self-proclaimed nationalists against Giriraj for praising Gandhi's murderer? It reflects the political interests of the mainstream media.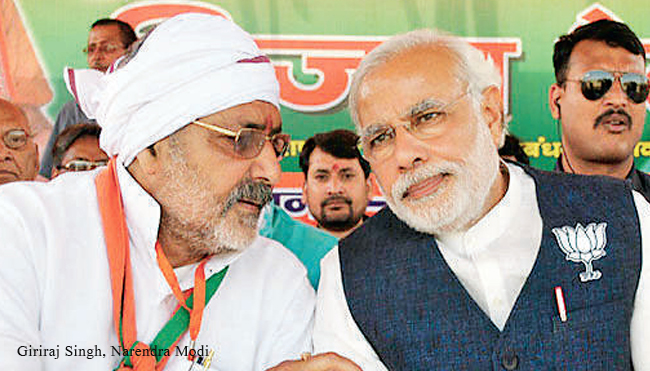 Nathuram Godse was against the principles of democracy, secularism, socialism, and other values prescribed in the constitution since he advocates Hindu Rashtra. Kashmiri Muslim, Afzal Guru who was a critic of the Indian and Pakistan state was made a scapegoat by the Indian state in the government-orchestrated 2001 parliament attack which took place just after the Kargil War coffin scam affected Vajpayee's government. Afzal Guru is a victim of state violence, while Godse represents Brahmanic Hindutva terrorism.
I am not pointing out the double stand here in the case of Umar and Giriraj taken by authorities. From analyzing the JNU event and Giriraj's statement, apart from understanding the nature of collective conscience, we can also understand that the "so-called national security laws created and implemented in India are meant only to commit crimes against the dissenters and marginalized people of India".
Both Giriraj Singh and Umar Khalid cannot be simultaneously regarded as patriots and anti-nationals. If Godse and Giriraj are deemed patriots then dissenters including Umar can be considered anti-nationals!
It is simple to portray athiests and communists like Umar who comes from a Muslim background as Islamist terrorists for criticising violence by state against citizens including Muslims.
Release Comrade Umar Khalid!
Release all Political Prisoners!
Repeal all draconian laws!
_ Rejaz M Sheeba Sydeek